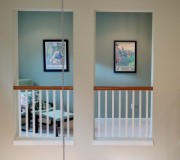 A pressing question has always been, "How does spending the extra money on energy-efficient products help the value of my home"? It is nice to lower heating bills, but how long does it take to recoup the expense of some of these products?
There is now a way to capture these improvements and assign them a value in an appraisal. Real estate appraisers finally have a new form that helps standardize the way that energy efficient features are included in their reports. Until now, Fannie Mae, Freddie Mac and the Federal Housing Administration used a form that centered on maintaining sound lending practices but did not have a way to capture what energy-efficiency improvements contributed to the value of a home. Including a narrative of any green features in a description box was not always viewed by the lending institution.
NWMLS data of new homes sold from Sept 2007 through February 2010 comparing homes that sold with an environmental certification and those without a certification. According to the collected data, environmentally certified homes in Seattle sold for 9.2 percent more per square foot in 24 percent less time and make up 34 percent of the market.
Read More