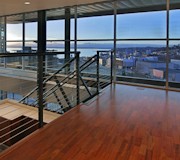 Many Americans love a good deal, shopping around to save $10 or $20 on a pair of pants or winter coats for the kids — but when finding mortgages, nearly half don't even call around to different banks. Three-fourths only fill out an application with one lender.
Richard Cordray, head of the Consumer Financial Protection Bureau, says there may be a few reasons consumers aren't comparison shopping for loans.
"It is a surprising finding, and it suggests that they're still fairly intimidated by the mortgage transaction," he says. "Or they're a little distracted because, at the same time, they're picking out a house."
But Cordray explains how costly the oversight can be, using as an example a $200,000 loan at rates of either 4 percent or 4.5 percent.
"The difference in even a half percent of interest racks up pretty quickly over five years to about $3,500 — and over the life of a 30-year loan, obviously, far more than that," Cordray says. "So this is real money for people — meaningful money."
In response, the Consumer Financial Protection Bureau is launching a set of online tools today to make these comparisons and decisions easier for U.S. homebuyers. One, for instance, will let a user plug in their credit score and ZIP code to generate a range of interest rates being offered by lenders that day.
Read More