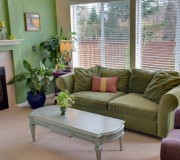 The Federal Housing Finance Agency laid out new rules aimed at speeding up the short sale process, a move that could keep many homes from falling into foreclosure. In a short sale, the bank that holds the mortgage must agree to accept a price for the home that is less than what is owed.

Even though short sales are considered a better alternative to foreclosure, banks often take so long to review and approve short sales that the deal falls apart and homes get repossessed. "Delays in approving short sale requests remain a significant challenge for realtors and consumers and often results in canceled contracts and the property going into foreclosure," said the president of the National Association of Realtors.

The organization attributed much of the closing problems to extended lender response times. Some agents said that lenders even foreclosed on the homes before a short sale could close.
Read More