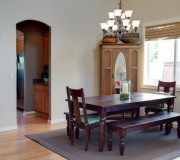 Bank assisted short sales of homes surged in the second quarter of the year as buyers snapped up discount priced properties at some of the lowest mortgage rates in decades. The surge in home purchases from pre-foreclosures account for an eighth of all residential sales, but represent less than a quarter of all U.S. home sales.

Short sales, in which banks cooperate with mortgage holders to sell at a price for less than what is owed on the mortgage had an average sales price of $192,129, according to RealtyTrac. The figure represents a discount of about 21% under homes that are not foreclosures or short sale properties.
The surge in sales may be a major step for the housing market, troubled by record foreclosures and declining home values in most areas of the country. High unemployment and underemployment levels make it nearly impossible for more than a third of all U.S. households to qualify to purchase a home.
Read More