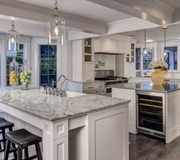 There are four distinct generations that are changing the types of homes in demand today. They include these generations: The Silent Generation: born 1925-1945, Baby Boomers: born 1946-1964, Generation X: born 1965-1980, Generation Y: born 1981-2000
Each of the generations have very specific housing needs which require updated floor plans. This is creating both challenges and opportunities in the real estate industry. These new demands for specific space include more storage and work space, outdoor living spaces, and guest or extended family guest quarters (next generation living space). The demand for remodeling has dramatically increased with bathroom renovations next generational remodels being at the top of the remodel list.
The four generations each have different housing needs and each require a different kind of home. Here is each generation is looking for in their living space:
Silent Generation: This generation doesn't require a large home in terms of square footage. Small square footage and one-level living is attractive to this generation as the less there is to maintain, the better. They are not into fancy finishes – they want practical, useable space with smart bathrooms (which include non-slip surfaces, easy-to-get-into bathtubs, walk-in showers rather than shower/bath combos, and safety bars). They also need space for visiting family members or a temporary live-in caretaker/medical care provider. This generation is more likely to renovate rather than relocate if possible due to their connection with their neighborhood and their neighbors.
Read More