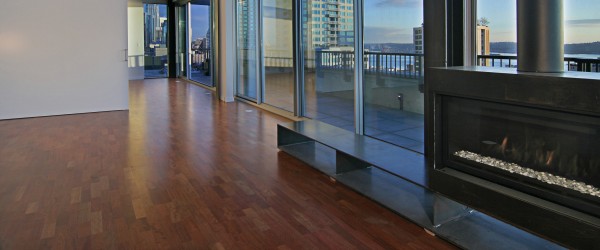 Modern Take on a Fireplace
Wednesday, December 22, 2010
Modern Take on a Fireplace
Think outside the firebox for a sleek and stylish look

Still the focal point of many interior living spaces, the latest fireplaces look anything but traditional. Although their inner workings are largely standardized ― most new models contain prefabricated fireboxes ― the front can be much more expressive.

As long as you follow building codes regulating the distance that combustible materials must be from the firebox opening and the distance a mantel shelf can project from the wall, you are free to decide how you trim out, or decorate, the area around the firebox.
From glass and steel to tile and stone, the material options are broad and enchanting. So read on and let the following examples inspire you to curl up by the fire.
Shadow play

A heavy oak-and-marble fireplace ― the result of an unfortunate '80s-era renovation ― once sat between the living room and the canyon view in this Los Angeles home. Everyone agreed it had to go, says architect Alejandro Ortiz. His solution: a see-through fireplace.

Ortiz installed the new firebox behind a sheet of sandblasted glass, which, like an architectural shower curtain, turns the firebox and chimney into a ghostly silhouette. Behind the glass lies the firebox, completely exposed. The 7- by 4-foot steel base, which is painted black, functions as a raised hearth and was designed to store firewood on one side and magazines on the other.