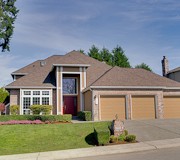 Expected Growth Remains Sluggish as Supply Issues Persist
A flurry of recent housing data suggests that the market's spring selling season is getting off to a slow start, a worrisome sign after a winter of expectations that warmer weather would rekindle growth.
Reports from local real-estate agent groups in some of the markets that were the first to rebound, including Las Vegas, Phoenix and San Diego, show year-over-year declines in March home sales. February data for pending home sales nationally—a barometer of early-spring activity—show a decline of 11% from a year ago.
And in markets around the country, fewer people are showing up at open houses. An index of home-buyer traffic in 40 U.S. markets compiled by Credit Suisse was down a little more than a third from March of last year. In some parts of the country, cold weather has put a damper on traffic.
New construction of single family homes is also increasing slowly, according to new data released Wednesday. New building permits for single-family homes in March fell 1.2% below the year-earlier level, the Commerce Department said Wednesday. New single-family home starts rose 1.9% from a year earlier.
The sluggish start to the spring home-buying season—a crucial period for sales because families typically want to lock into a school district by the end of summer—comes as investors cut back on purchases of homes that can be rented or flipped for a quick profit. Meanwhile, potential buyers are still adjusting to a sharp rise in both home prices and borrowing costs over the past year. With prices and mortgage rates up, the nation's median monthly home payment—including principal and interest—has risen 20% in the past year to about $900.
Read More